Hey guys, sorry I haven't posted in a long time. I went on vacation to Las Vegas for a while. Anyway, I found this swimwear website that sells the CUTEST bikinis in the whole world! They became super popular last summer and now everyone is getting them this summer. The website is triangl.com. Their bikinis are a bit expensive, around $80 or $90. They are made out of neoprene, which is the stuff that wetsuits are made out of. They are super durable and super in-style. If you want to buy one, you should size up on the bottoms because I heard they are a little low-cut and small.
I kind of REALLY want one, but they are way to expensive for me to afford. But it doesn't mean I can't share it with you 🙂 These are the best styles they have on their website.
If you don't want to spend almost $100 on these cute thangs, you can find dupes in many places. The best one I've heard of so far is on aliexpress.com. Unfortunately, these ship from China so they take like a month to ship, and you have to go to the post office to retrieve them.
There is a review for an aliexpress Triangl dupe bikini here:
http://dupediaries.wordpress.com/2014/06/13/dupe-diaries-triangl-swimwear/
If you are going to buy things from aliexpress.com, I HIGHLY suggest you check the feedback and seller ratings before buying things, because some dupes are really bad quality. The most reliable sellers are the usually at the top of the list when you search up something. Also, the more expensive it is on aliexpress, the better quality it is. I do suggest buying things that are a bit more expensive, because things on aliexpress really aren't that expensive in general.
Another website where I found a Triangl bikini dupe is on garageclothing.com. Their swimwear is on sale right now, so they are only selling white Triangl dupes in M and L at the moment. Hopefully when the sale is over, there will be more colors and sizes in stock.
Another website where you can find Trianl dupes is us.riverisland.com. Unfortunately, they also have limited sizing and colors at the moment.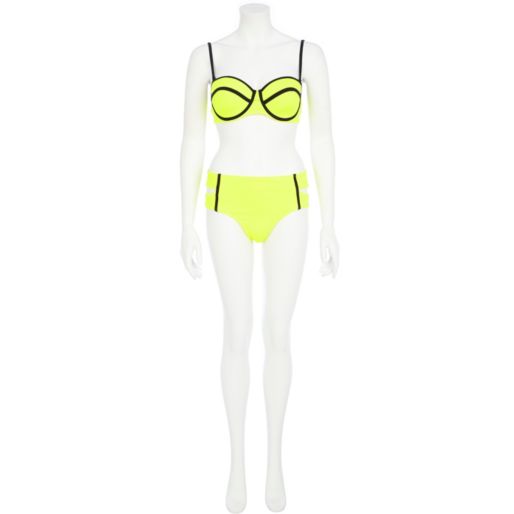 You can also find them on Amazon, but I highly suggest buying the Aliexpress ones instead of the Amazon dupes. They don't get too good ratings and don't look as legit as the Aliexpress ones. The only bad thing about Aliexpress is the shipping takes a really long time, but it should be worth it 🙂
Hope you enjoyed the post!
Instagram @socalspiritblog
Youtube Channel http://youtube.com/TwinsEntertainmentUS
XOXO ~Angela